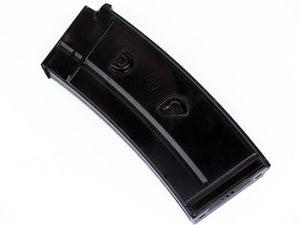 WELL - 300rds Hi-Cap Magazine for SIG552 AEGs
WELL-HCMAG552-300
FEATURES:


For those who don't like the low capacity standard AEG Magazine.
This Hi-Cap Magazine is a direct replacement of the Standard one.
Replacement of standard magazine of SIG 552 Series Airsoft Gun.
300 Rounds of loading capacity are enough for high shooting rate skirmish airsoft game.
Pour Plastic Bullet on top of the magazine.
Large thumb dial on bottom of magazine allow you to wind up the compression spring.
Suitable for 6mm Plastic Bullet only.

DETAILS:


Color - Clear Black
Material - Polymer
Gun suitable - WELL SG552 / Jing Gong SIG 552 Series Airsoft Electric Gun AEG
Capacity - 300 rounds
Bullet type - 6mm plastic bullet
WELL-HCMAG552-300