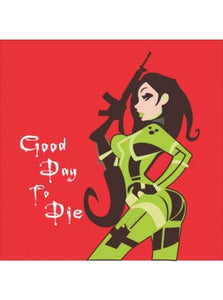 Tiger Tactical Airsoft Kill Rag - "Good Day To Die!"
TTA-KILLRAG-02
Tired of getting shot up as you walk off of the field because someone didn't hear you call out? The kill rag is used to signal you are out of play to avoid having the whole opposing team open up on you as soon as you stand up. Draping it over your headgear sends a clear visual single to the other team to let you pass.


Made of see-through, breathable cloth with logos.
Measures 17 1/4 X 17x1/4 inches
Color : Red
TTA-KILLRAG-02