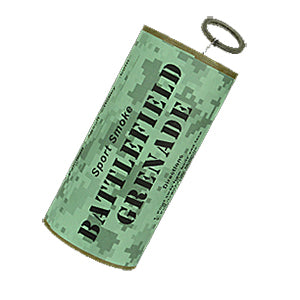 Sport Smoke - BattleField Smoke Grenades (BFG) - Pick up ONLY
BFG
Our BattleField Smoke Grenade (BFG) is our largest smoke grenade for paintball and airsoft. These grenades are more than 3 TIMES the size of a TSG! The BFG features a recessed smoke port and a powerful 3 minute burn to cover a large area QUICKLY. If you want to smoke out an entire field this is the ultimate choice!
Product

Features

• Pull ring igniter
• Thick smoke 2-3 min
• Easy to handle and carry
• Biodegradable
• "Cool burning" Non-Pyrotechnic Smoke
• Made in the USA
Product

Specs

Fire Mechanism: Pull-ring
Smoke Output: 70,000 cft
Duration: 2-3 min
Dimensions: 5"×2.5"
Weight (lb): .6
Qty: 1pc

NOTE: This product is pick up ONLY.  NO SHIPPING with this individual item.  If you want it shipped to you, please choose your package of 4pcs, 8pcs, 12pcs... Those packages are subject to HAZMAT FEE Shipping.

 
BFG