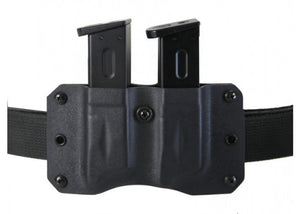 SpetzGear Kydex - Dual Magazine Pouch for M9 Left side/Forward - Black
SG-2L-M9-BLK
Spetz Gear Kydex Belt Dual Magazine Pouch for Socom Gear M9 in Black - Left Side/Forward ***MADE IN USA***
Description:
The Spetz Gear Kydex Dual Magazine Pouch (M9) is the newest line of Kydex magazine holsters for M9 style airsoft pistols. The Kydex material is waterproof, wear-resistant, and low friction which means that the dual holster will securely hold your magazines when you're out on the field, yet allow for a smooth and fast draw when needed.

Specifications:
Manufacturer: Spetz Gear
Model: SG 2L M9 BLK
Color: Black
Material: Kydex

Features:
Tension Adjustable
Wear Resistant
Durable Material
Pleae Note:

Holster may fit real M9 magazines however this is not guaranteed
For airsoft use only.
Exact color shade may vary.
****Magazines are not included ****
SG-2L-M9-BLK