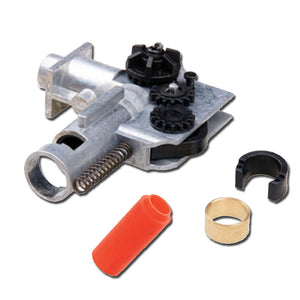 SHS - Metal Hop-Up Chamber Set with red bucking - M4/M16 AEGs - T-T0005
SHS-TT0005
Features:

This One-piece metal chamber set is more durable and accurate in feeding BB.
Improves firmness of the chamber & stabilizes the muzzle velocity.
Fits all metal bodies.(exclude KWA metal body)
Fit tightly to the barrel base to keep the chamber being centered.
Unlike stock plastic chamber which would bend & de-shape, this metal one give you rigidity.
Highly recommend for upgraded airsoft electric gun to withstand higher air pressure.
Includes all parts needed for installation.
As always, upgrading AEG require necessary skill & technique to dissemble the gearbox, consult expertise if needed.
Compatible with all Marui compatible M4/M16 series airsoft AEG.
***Note: This unit will not work with Plastic Body*** Modify to fit at your risk **** Not work with KWA Metal Body***
SHS-TT0005