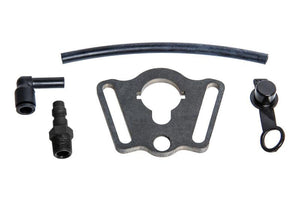 Redline Airsoft - M4 Plate Connect Kit
RDP-CONM4-PLT
The new Ver-2, Gen-3 Engines offer the option of routing your Engines air hose to the rear by using a 90 degree rear air/milsim adapter. This is without a doubt the least obtrusive most comfortable way to route your air hose.

The M4 Plate Connect combines the comfort of having your Engine hose routed to the rear along with the convenience, ease of operation and secure hose connection of our Grip Connect.
It uses a specially made, heavy duty steel ambi sling plate that is drilled and tapped at a 20 deg. angle to mount our custom quick connect nipple.  The nipple has an internal o-ring that seals on the hose just like on our Grip Connect.
Kit also includes the 90 deg. rear air (milsim) fitting.

Gen-1&2 Engines require the optional Rear Air Conversion kit to route the air hose to the rear.
RDP-CONM4-PLT