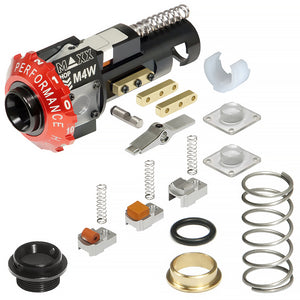 MAXX - CNC Aluminum Hopup Chamber M4W for Wolverine MTW - MX-HOP010MW
MX-HOP010MW
CNC Aluminum Hopup Chamber M4W unit is precisely machined to perform accurately and consistently on HPA MTW Milspec, Forged, Billet and MTW-9 series.
The Hopup Chamber M4W unit is built with an aluminum Rotary Dial Knob for fine hopup adjustments, the precision Hopup Lever and 4mm Bucking Nubs (6mm Bucking Nubs are optional) to perform best with R-Hop and Standard-Hop to keep the BB shooting accurately and consistently on every single shot.
The Hopup Chamber M4W unit is designed to accept the HPA MTW Engine M4 nozzle length, and fully compatible with most aftermarket soft and hard rubber buckings without losing FPS or dropping BB during use.
The Hopup Chamber M4W unit is wisely equipped with an interchangeable Inlet Adaptor OD11mm to ensure the hopup unit is inserted exactly in the center of the 11mm inner bore HPA Engine nozzle outlet without wobbling. (Inlet Adaptor OD11.5mm and OD12mm are optional)
Also mounted the removable CNC Brass Side Wings to slide smoothly into the outer barrel slots, and included an advanced CNC Delrin Locking C-Clip to hold the inner barrel tight in place without wobbling and twisting.

***The Dual UV LED Tracer Module is an add-on option to glow BB in the dark. Operating Voltage from 7VDC - 15VDC (2-4 cells LiPo, 6-13 cells NiCad). (Sold separately)
***Test results: FPS might be increased from 10FPS to 30FPS over the stock setup. Please check your FPS!
Includes
1 x CNC Aluminum Hopup Chamber M4W unit
2 x CNC Acrylic Side Cover
2 x CNC Brass 2.6mm Side Wing
1 x CNC Steel Pivot Pin
1 x CNC Aluminum Hopup Lever
1 x CNC Aluminum Soft Round Nub
1 x CNC Aluminum Soft Flat Nub (4mm)
1 x CNC Aluminum Hard Concave Nub (4mm)
3 x Steel Nub Spring
1 x CNC Steel Spring Guide
1 x Steel Upper Compression Spring
1 x Steel Center Compression Spring
1 x CNC Delrin Locking C-Clip
1 x CNC Brass Barrel Spacer
1 x Brass Barrel Spacer Holder Oring
1 x CNC Aluminum Rotary Dial Knob
1 x CNC Aluminum Inlet Adaptor (OD11mm)
| | |
| --- | --- |
| | Overall Length: 51.15mm |
| | Overall Height: 22mm |
| | Inlet Adaptor Outer Diameter (to fit into HPA Nozzle Outlet): 11mm |
| | Hub Outer Diameter (to fit into Outer Barrel): 12mm |
| | Hub Inner Diameter (to fit Nozzle): 8mm |
| | Material: Aluminum 6061 |
| | |
| --- | --- |
|   | Features |
| | Machined from a solid aircraft aluminum block with tight tolerances to achieve the most accuracy, consistency, and durability |
| | Performed accurately and consistently on HPA MTW Milspec, Forged, Billet and MTW-9 series |
| | Precision Rotary Dial Knob for fine hopup adjustments |
| | Re-engineered the precision Hopup Lever and 4mm Bucking Nubs (6mm Bucking Nubs are optional) to perform best with R-Hop and Standard-Hop to keep the BB shooting accurately and consistently on every single shot |
| | Removable Steel Pivot Pin for ease of setup and maintenance |
| | Accepted the HPA MTW Engine M4 nozzle length |
| | Fully compatible with most aftermarket soft and hard rubber buckings without losing FPS or dropping BB during use |
| | Wisely equipped with an interchangeable Inlet Adaptor OD11mm to ensure the hopup unit is inserted exactly in the center of the 11mm inner bore HPA Engine nozzle outlet without wobbling. (Inlet Adaptor OD11.5mm and OD12mm are sold separately) |
| | Mounted the removable CNC Brass Side Wings to slide smoothly into the outer barrel slots |
| | Included an advanced CNC Delrin Locking C-Clip to hold the inner barrel tight in place without wobbling and twisting |
| | Equipped with 2 compression springs on top and center to ensure the hopup unit is seated straight and air tight during use |
| | Compatible with any 11mm inner bore HPA Engine nozzle outlets |
| | The Dual UV LED Tracer Module to glow BB in the dark ready! |
| | |
| --- | --- |
|   | Weight |
| | N/A grams |
| | |
| --- | --- |
|   | Usage |
| | Compatible with most HPA MTW Milspec, Forged, Billet and MTW-9 series |
| | |
| --- | --- |
|   | Requires |
| | Wearing eye protection is recommended |
| | Use proper tools for disassembly and reassembly the gear box with great care due to spring tension |
| | Bearing lubricant oil/grease is recommended for smooth operation |
| | |
| --- | --- |
|   | Instruction |
| | Instruction Manuals are included |
MX-HOP010MW