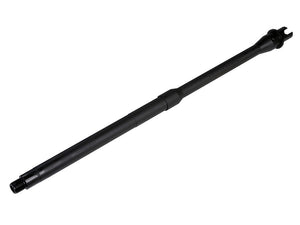 Madbull - Daniel Defense licensed 18" SPR Profile - Midlength
MB OTB DD MID 18 SPR
Madbull fully licensed Daniel Defense airsoft Cold Hammer Forge Barrels are exact replicas which feature authentic engravings stating the make, caliber, and rifling of the barrel.
Madbull Daniel Defense barrels features eight models in carbine length, three models in mid-length, and one model in full or rifle length system.
Daniel Defense, famous for its rail systems and its cold hammer forged barrels, has produced high quality barrels through their refined hammer forging process ensures that the barrels are produced virtualy defect free, like Madbull's own fully licensed replicas.
Specifications:
Manufacturer: Madbull
Length: 18" 
Color: Black
Thread Direction: 14mm Negative
MB OTB DD MID 18 SPR