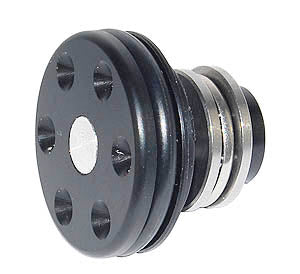 Lonex - POM Ventilation Bearing Piston Head - Black - GB-01-10B
LX-GB-01-10B
Lonex POM Ventilation Bearing Piston Head
Essential part for upgrading your Gearbox
The ventilation holes on the piston head can greatly increase the speed that the piston travel; thus it increases the speed that the gun fires
The piston head has a special design which can decrease the friction occurs when the spring compresses
This design not only can prevent the malfuction of the spring, but also increase the durability of it
The longevity of the battery can benefit from this design as well
The Lonex POM Piston Head is one of the highest quality Piston Heads on the market. POM is an engineering thermoplastic that is used in precision parts requiring high stiffness, low friction and dimensional stability. The POM material also gives this Piston Head high abrasion and heat resistance, as well as a low coefficient of friction.

This Piston Head has 6 equidistant, well-machined ports. The flat face of the Piston Head prolongs the life of any Sorbothane/Neoprene padding. 

If you are going to use these Piston Heads in a high rate of fire gearbox, then I highly recommend removing the Thrust bearings. Removing the bearings will reduce the weight of the Piston Head from 8.9 grams to 5.2 grams, making it 42% lighter! If you do this, you will need a a bearing spring guide so there is no loss of spring torsion.
LX-GB-01-10B