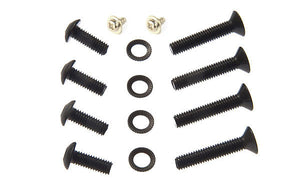 Lonex - Gearbox Screw Set for V2 Gearbox - GB-05-04
LX-GB-05-04
Description:
The Lonex Version 2 High Performance Gearbox Screw Set is a great solution for tech's that are constantly opening and closing their gearboxes. Over time screw heads and thread can wear down, and with the vibration of the gearbox, they can wiggle themselves out of place. These screws are specifically designed to outlast and outperform stock screws. If you've already installed all of the reinforcement parts known to man inside your gearbox, you might as well top it off with these high performance gearbox screws.
Specifications:
Material: Alloy steel 

Specification: M3 

Weight : 6g 
Package includes: 10 screws and 4 washers.
LX-GB-05-04