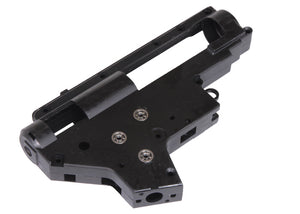 KWA - 2GX Gearbox Shell w/ 9mm Bearings Version 2 for KM4 Series
KWA-G2X-Shell
The legendary KWA 2GX mechbox is heavily reinforced and radiused to provide years of reliable use. The introduction of the 2GX mechbox brought AEGs to a whole new level of performance, and continues to build on KWA's reputation of outstanding craftsmanship and dependability.
The KWA 2GX mechbox fits both the current and 1st-gen KM4 Series, and is universal to The KM4 SR, KR, CQR, and KM16 Series AEGs.
It comes with 9mm Bearing pre-installed.  All screws are not included.
KWA-G2X-Shell