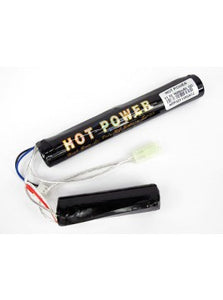 HotPower - 1600mah 11.1V (3S) 12C Lipo Battery
HP12-16003CS
FEATURES:
Hot Power 11.1V 1600mAh 12C .
Capable of single cell charging with 2 outgoing wires: one for charging, one for using.
This 11.1V battery recommend for professional airsoft players.
It is lighter weight and smaller size than the Ni-CD/Ni-MH battery.
It can improves the rate of fire.
Do not use it for under 350fps AEG. It may cause to your gearbox damage unless your gearbox is tune for "Fast Shooting Frequency Setting".
Installation may need minor modifications on some receivers.
High capacity rechargeable battery with low price.

DETAILS:

Hot power model no. - 11.1V 1600mAh 12C
Weight - 126g
Size - 135mm x 18.5mm & 70mm x 18.5mm
Battery capacity - 1600mAh
Fit battery pack - Crane Stock (Nickel / Li-Po)
Battery cell type - Li-Poly / LiPo
Type - Mini type
Connector - 4-pin balancer tab
Max continuous discharge rate - 12C
****No Warranty on any Lipo Battery*** We are NOT responsible for any damage caused by misuse or mishandling of Li-Po/Li-Ion batteries in charging.
HP12-16003CS