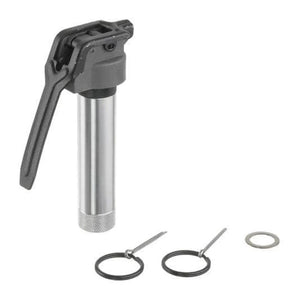 Hakkotsu - Thunder B Standard Core with Spoon
HAKKOTSU-TBH1
The Hakkotsu Thunder B Standard Core with Spoon is here, and it is sure to make a bang at your next airsoft event! Powered by Co2 the Hakkatsu Thunder B grenade is easily the loudest and most realistic airsoft grenade on the market. Unlike other popular grenades on the market, the Thunder B functions just like the real deal and features a pin and spoon operating mechanism. The Thunder B grenade is a very simple design and provides very little areas for failure. The grenade operates off of the standard 12 gram Co2 cartridge that is consumed which each use of the grenade. The entire grenade is constructed very well, the pin, spoon and cartridge assembly are all made out of a very tough metal and will not dent or deform after numerous throws of the grenade. Even though the shell of the grenade is made to burst from the pressure of the CO2 it is nearly impossible to damage the grenade shell under normal in game stress.

This new generation of Thunder B grenades is equipped with removable caps on the top and bottom of the shell which are designed to reinforce the shell and guarantee that it breaks in the center, making the grenade significantly louder. This package includes everything that you need to get started with the Thunder B grenade.
Specifications:
Manufacturer: Hakkotsu
Package Includes: One (1) Core
After throwing your Thunder B grenades countless times, the core striker always takes a beating!  Off the walls of buildings, on the ground, off trees, vehicles etc these things can really take some wear and tear!  Fear not, now we have the replacement core and spoon for the Standard Thunder B grenades available for replacement or as backup.
HAKKOTSU-TBH1