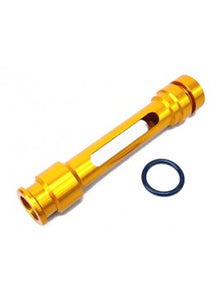 FE - CNC Aluminum Piston for KS/Echo1/AEG M24 Rifle 50% Power - Gold
FE-0105
FEATURES:
FE CNC Aluminum Piston (50% Power Up).
CNC aluminum construction (6-Hole Piston).
Design for KS/Echo1/AEG M24 series bolt action airsoft sniper rifle.
Enhanced part for power upgrade user (50% Power Up).
Aluminum body - Lightweight, reduce the load pressure from cocking (6-Hole Piston).
Light weight reinforced piston is increase the air volume to provide higher power.
As always, upgrading AEG require necessary skill & technique to dissemble the gearbox, consult expertise if needed.
NOTE: Dissembling may require experienced technical advice. You can consult your locate airsoft shop for detail.
Color - Gold
Weight - 48g
Built Material - CNC aluminum
FE-0105