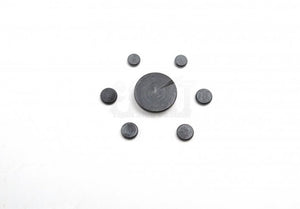 FCC - trigger, hammer, full auto sear pin & selector cap decorat
AK-LR-0192021
Missed some of dummy pins & see some hole on your lower receiver? Or don't compromise with those dumpty un-realistic factory dummy pins especially the stupid selector cap? Our advanced dummy pins & selector cap decoration set will suitable for you! All SUS304 stainless steel precision cut & machined with long-wearing mil-spec Parkerized finish outlook.
Features:
- Stainless steel machined
- Realistic size & shape
- Selector indicate pointer marked
- 1x selector cap, 2x full auto sear & 4x trigger/hammer dummy pins included
- No more dummy pins MISSING IN ACTION!!!
AK-LR-0192021