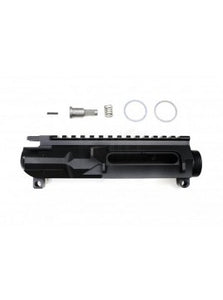 FCC - Custom CNC RAUM Style Upper Receiver for PTW/CTW Series- Black
AK-UR001-CNC-RAU
For Airsoft Use Only!!
CUSTOM CNC RAU.M. Style Upper Receiver is as bold and tough as it looks!! MilSpec flat-top upper receiver made to fit all AR15/M16/M4 rifles and carbines. CNC machined out of a solid billet of 6063-T6 Aluminium, the style has employed extra material, combined with the hard anodized surface makes it visually and structurally extra-tough.

This is without a doubt one of the best upper receivers available on the market today for the T.W. platform.
FCC steel Forward Assist pluge included and also two barrel nut washers for easy installation. Compatible with FCC, Celcious, DTW, ATW and Systema TW system.

Please note that FCC products/parts may require professional installation, with proper tools, you can consult your local dealer/gunsmith or directly contact us for better assembly results.
****Not include charging handle and port dust cover****
AK-UR001-CNC-RAU