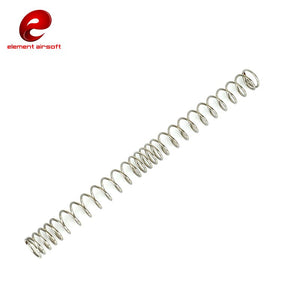 Element - Oil Temper Wire Irregular M105 ST Spring for AEG (330-360fps) - IN0106
ELE-IN0106
Element - Oil Temper Wire M105 ST Spring for AEG
M105= 330-360 fps
Color: Silver
-- Suitable for AEG Gearbox                                        
-- Irregular-Pitch Spring
-- Oil tempered wire manufacture with light weight resistance.
-- High Quality Airsoft Spring
-- Power Output may vary if used in conjunction with our upgrade parts
NOTE: Spring Direction:  There is a direction for incorporating uneven pitching springs.  Please set it that the narrower one is the spring guide side and the wider one is the piston side.
ELE-IN0106