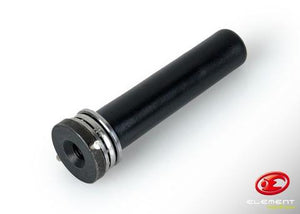 Element Ball Bearing Spring Guide for Ver. 2 Gearbox - IN0501
ELE-IN0501
FEATURES:
This reinforced spring guide replace the original stock spring guide of Airsoft AEG.
For Airsoft Gearbox Ver. 2 Airsoft AEG.
This spring guide with ball bearing is designed to minimize the load for the motor caused by the spring tension.
Makes spring effectively spring back.
Reduces the risk of spring breakage.
Recommended to use upgrade spring along with the spring guide.

DETAILS:

Weight - 20g
Material - Polymer & metal
Gearbox type - Version 2
ELE-IN0501