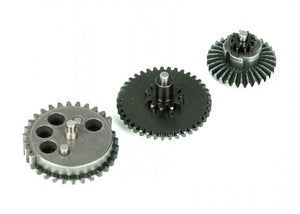 Echo1 - Max 1/2 Tooth Torque Gear Set (32:1)
E1-GS-MAXTQ321
The Echo 1 Max Torque High Performance Gear Set (32:1) is a great option for your high-end AEG build. Echo 1 has claimed that this gear set is so strong that it "can pull any spring" (quoted directly from their website).
This kit includes the sector gear, bevel gear, and torque gear all matched together at a 32 :1 ratio
NOTE: This gears 32:1 ratio can only works with Half Teeth Piston.  Please check your piston and upgrade your piston if you doesn't have Half Teeth Piston yet.
E1-GS-MAXTQ321