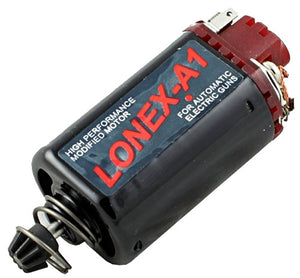 Lonex - TITAN Infinte Torque-Up A1 Motor (Short) for AK AEG Series - GB-05-07
LX-GB-05-07
GB-05 motor series using heat resistance enameled wire, up to 200℃, 
to build the core of the motor. This helps the motor to maintain the temperature at an efficient level, even under the full power, also it greatly increases the durability of the motor and battery consumptions. 
A set of ball bearings are installed at both ends of the motor, not only improves the rotations but also further improves the energy consumption. 
The front end of the motor has an aluminum cage to improve the rotations, and a high durability nylon cover at the rear end to withstand the high temperature and extreme wear of the motor. 
Lastly, the motor pinion gear uses high density steel that can endure the extreme rotation and pressure under high torque or high speed set up. 
Lonex A1, A2, A3 motors are designed for high speed and high torque AEG setups. 
  Using 100 M / S or below setups will damage the internal parts of the gearbox. 
  Please seek professional aids when installing the motors.
LX-GB-05-07