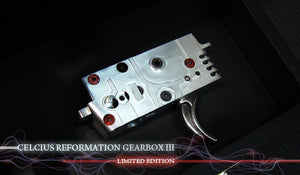 Celcius - CNC Ambidextrous Reformation Gearbox III - Limited Edition - ASB-GBX-RFLE
ASB-GBX-RFLE
Compatible with: Systema PTW, AIRO TW, D&G DTW, and A&K TW.
 
 CRG - Celcius Reformation Gearbox
 
  - Aircraft Grade Aluminum
  - CNC Processed
  - Modified Bearing Plate / Shaft Support Housing
  - Adjustable Trigger
  - AMBIDEXTROUS SAFETY SELECTOR
 
  Package includes:
  Gearbox Case Left
  Gearbox Case Right
  Shaft Support Housing
  Combat Trigger - Polished (Enhanced smoothness of the trigger)
  C.A.S.S. Ambidextrous Safety Selector (TW Version)
  Right Selector Lock Plate
  Internal Sector Gear Shim for Reformation Gearbox
  Reinforced Shafts for all gears
  Selector Click Ball
  Selector Click Ball Spring
  Selector click Ball Screw
  Selector Rack Gear
  Selector Switch Shim and Spring Plate (ELC-002-P)
 
 The production of this gearbox are limited, based on high quality in CNC processing, assembling, and quality control. Each piece is carefully assembled by hand, inspected, tested, meticulously detailed, and serviced if needed.

ASB-GBX-RFLE