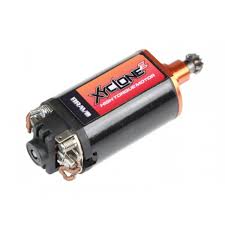 Bravo Airsoft Xyclone II High Torque Motor - Medium
BRAVO-XYC-HT-MED
New and Improved Bravo XYCLONE II High Performance AEG Motor
Improved from the previous motor is the Xyclone II High Speed Motor. Providing both High Speed and Torque, this motor has improved in everyway. With high quality internals, this a great motor when seeking higher BPS (BBs Per Second) and upgrading your AEG.
This high-torque motor is capable of pulling nearly all springs on the market while still putting out 43,000 RPM to allow your AEG to fire at a high ROF and a significantly increased FPS, all while giving you a much better trigger response overall. You'll feel the firing difference immediately, and your weapon's performance will reach new peaks.
Specifications:
Manufacturer: Bravo
Model: Xyclone II High Torque Motor
Motor RPM: 43,000 Size: Medium type
Package Includes: Motor only
Features:
Able to pull nearly any spring on the market
Increased rate of fire
Improved trigger response
Durable and reliable
Please Note:

Professional installation is recommended. Improper use or installation of upgrade parts are 99% of the time the cause of failures of these items.
BRAVO-XYC-HT-MED