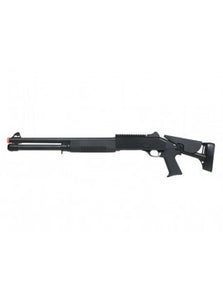 Bravo - 3rounds Burst Pump Shotgun with Long Barrel & Retracable - B28DL
BRAVO-B28DL
Description:
The Bravo 3 Burst Long Barrel / Retractable Stock Shotgun is a replica of the famous Tokyo Marui M3 Shotgun. It is fed by a replica shotgun shell that loads 3 BBs into 3 separate barrels with every action. The 3 barrel design is the best way to accurately shoot multiple BBs at the same time. Although the gun is made primarily of plastic the structure is very sturdy. This shotgun features retractable stock which allows the user to adjust the stock to their preferences.
Specifications:
Manufacturer: Bravo
Muzzle Velocity: 290-310FPS
Shell Capacity: 30 rounds
Package Includes: Gun, 1 Shell, Sling, Speed Loader.
BRAVO-B28DL