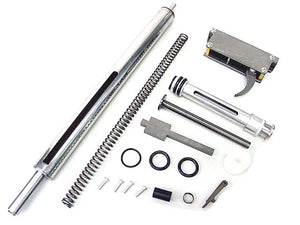 Army Force - Upgrade Kit for L96 Bolt Action Series - AF-IN001
AF-IN001
FEATURES:
Army Force Enhanced Upgrade Kit.
Full metal construction.
Package include Cylinder Set, Trigger and Piston Set.
Suitable for Type 96 series by WELL MB-01 / SD96 / UTG Type 96 Shadow Ops / Bravo / Double Eagle / Maruzen and other compatible airsoft bolt action sniper rifles.
Dissembling may require experienced technical advice, consult expertise if needed.
AF-IN001