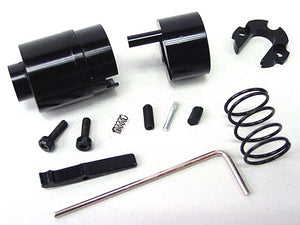 5KU - AEG Barrel Type CNC Hop Up Chamber for WA M4 Series - GB-121
5KU-GB-121
5KU Hop Up Chamber Unit.
Rear adjustment.
Full metal construction.
For WA/G&P WOC M4 series airsoft GBB rifle with AEG type barrel.
Replace Western Arms M4 series gas blow back rifle original Hop Up unit.
Accomplish to use with AEG type inner barrel.
As always, upgrading AEG require necessary skill & technique to dissemble the gearbox, consult expertise if needed.
5KU-GB-121