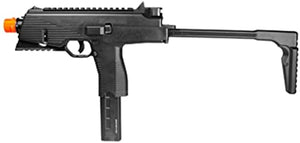 KWA KMP9R with Rail NS2 GBB - Black
KWA-MP9R-BLK
The KWA KMP9R NS2 Gas Blowback is an awesome submachine gun with serious attitude. This gun is highly sought after by airgunners for its superior reliability and uncanny rapid fire rate. The gun features semi/fully automatic firing, a 48 Rd magazine, and a shot velocity of 380 fps (using .20g BBs).The revolutionary NS2 gas blowback feature on this submachine gun adds outstanding realism to the shooting experience. The KMP9 also has a picatinny rail interface system on the top and side for mounting optional scopes and flashlights.
Specifications:
•Outer Barrel = Steel
•Caliber = 6 mm Airsoft BBs
•Magazine Capacity = 48 rounds
•Frame Material = Fiber Reinforced Polymer
•Gas System = New Structure [NS2]
•Velocity = 330+ fps with 0.20 gram BB's
•Propellant = Green Gas
•Dimensions [Un-Folded] = 52.70 cm X 24.13 cm
•Dimensions [Folded] = 30.48 cm
•Inner Barrel Length = 140 mm
•Weight = 1.81 kg
•Available Coilors = Black, Dark Earth, and Ranger Grey
Special Features:
•Folding Stock
•MIL-SPEC-1913 [Picatinny] side, top, and bottom rails
•Active Trigger Safety
•Realistic constrution and field stripping
•Functional cocking handle with realistic bolt action
•Semi and Full Auto
•Adjustable Hop-Up
•45 Days Product Warranty [US only]
•Lifetime Tech Support
Retail package include: SMG Pistol(1), Hi-Cap Magazine (1), Silicone Oil (1), Hop-Up adjustment wrench(1), and Airsoft BBs (50)
* Orange tip flash hiders are required for all US sales or where applicalble by law.
** Actual results may vary depending on temperature, type and brand of propellant used.
KWA-MP9R-BLK